We're a local roofing company based in Barnoldswick
Mass Roofing is a well-established roofing company in Barnoldswick providing roof repair services in Lancashire and Yorkshire. We have been in business for over 10 years and are professional, competent roofers. Our aim is to provide high quality roofing work for very reasonable prices... whether it be from small repair work or full re-roofs, we aim to bring customer satisfaction at competitive prices.
No matter what the job is, we want you to be happy. So if you need a quote or advice on what sort of job you need doing, please feel free to contact the Mass Roofing team anytime:
Repairing the Counties' roofs in Yorkshire and Lancashire
A full re-roof in Barnoldswick, with the peaks of the Yorkshire Dales over the rooftops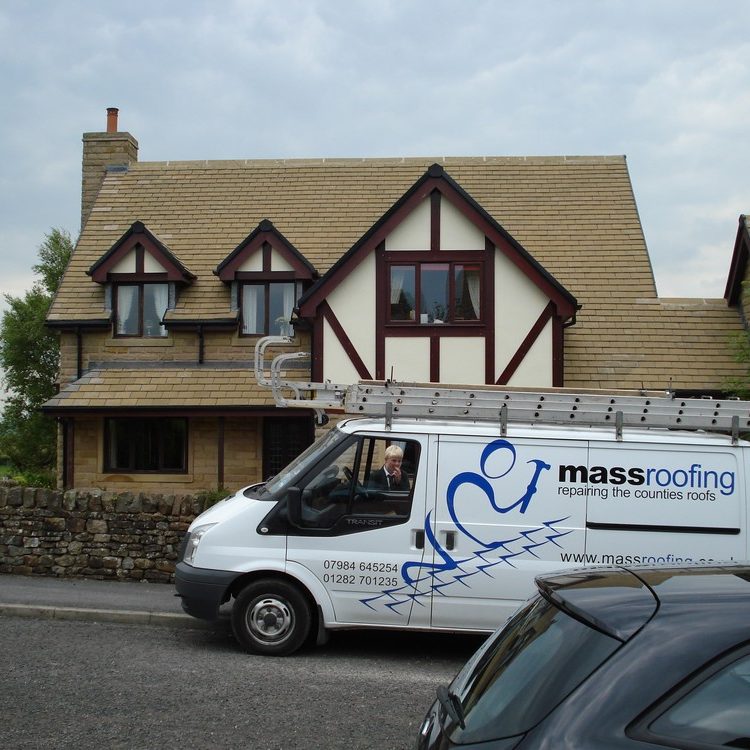 your roofing questions answered
What Sort Of Roofs Do You Do?
Here at Mass Roofing, we do almost all types of roofs from domestic to commercial and from slate to felt. If you have any queries or need advice on what roof you require, please feel free to contact us.
Where Do You Service?
We mainly provide roofing in Barnoldswick, Earby, Skipton, Colne, Burnley and Clitheroe (that's not to say that we don't provide roofing services in other areas beyond Craven, Pendle and the Ribble Valley).
Do You Fit Dormers and Velux Windows?
Yes we fit both Dormers and Velux windows, however some Dormer windows may require planning permission. Please feel free to contact us for a quote.
What Is A Flat Felt Roof?
A flat felt roof is a type of covering of a building. In contrast to the sloped form of a roof, a flat roof is horizontal or nearly horizontal. Materials that cover flat roofs typically allow the water to run off freely from a very slight inclination.
Modern flat felt roofs tends to use a continuous membrane covering which can better resist pools of standing water. These membranes are applied as a continuous sheet where possible, though sealants and adhesives are available to allow for bonding multiple sheets and dealing with structures penetrating the roof surface.
Do You Do Full Re-Roofs?
Yes we do full re-roofs and we do repair work. We also do fascias, gutters, chimney work, lead work, Dormers and Velux windows.
For a list of some of the services we provide, please see our services page:
Need to book a non-urgent roof repair or works? Or just looking for a quotation or some advice? Let us know your details and we'll call you for a chat about our roofing services: